details
The Electric Imp impAccelerator™ Fieldbus Gateway provides a platform for customers to rapidly implement secure fieldbus-to-cloud connectivity for a variety of industrial use-cases. Based on the Electric Imp imp005 module, the Fieldbus Gateway gives engineers an easily customizable and programmable lightweight gateway platform that can support a wide range of fieldbus systems, protocols and custom functionality to securely enable industrial control and monitoring applications.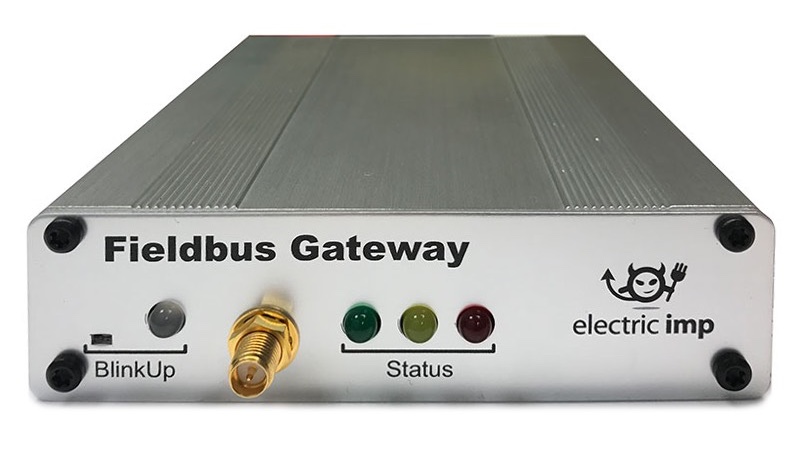 If you are new to the Electric Imp Platform, we recommend that you first work through the Fieldbus Gateway Getting Started Guide, which will show you how to create a free Electric Imp account, configure your Fieldbus Gateway for Internet connectivity, and introduce you to the process of creating connected products using the Platform.
Application Examples
Thanks to the Electric Imp Platform's reliable networking and robust security — delivered through the impCloud™ and impOS™ — and the imp005 module's ability to run fully customizable application software, the Fieldbus Gateway can be used to kick-start the development of a wide range of industrial applications, including:
Industrial Modbus-Internet gateway to securely connect isolated Modbus RTU (RS-485) or Modbus TCP (Ethernet) devices or subsystems to enterprise production systems.
HVAC-Internet gateway to remotely monitor and control industrial heating, cooling and ventilation systems.
Internet gateway and controller for Power over Ethernet (PoE) lighting systems.
Internet gateway for secure connectivity retrofit of products with a data port (for example, USB or UART), such as printers, scales, scanners, and other consumer and industrial devices.
BACnet-Internet gateway to retrofit existing BACnet (RS-485) systems with connectivity to building management systems.
Low-cost and highly secure alternative to industrial Linux gateways for many use cases such as process monitoring or protocol conversion (using the on-board XBee® or mikroBUS™ sockets to attach a variety of I/O interfaces).
Isolated LAN Ethernet Port
The Fieldbus Gateway has a downstream port intended to provide access to Ethernet-equipped industrial equipment such as PLC controllers. The downstream port is implemented using a Wiznet W5500 SPI-to-Ethernet bridge and uses the W5500's integrated PHY. The W5500 is accessed using the imp005's hardware.spi0 peripheral and the active-low chip select (nCS) pin dedicated to hardware.spi0. The W5500 interrupt and reset pins are connected to imp005 GPIO for additional control.